Contact Us
---
Get in touch with us to find out more about our training programs.
Feel free to ask us any questions you might have. We'll be more than pleased to help you out.
Comprehensive Exam Training

---
Get your salesperson and broker license with excellent exam training techniques from our team of professionals at The Academy of Regulated Real Estate Courses™ -TARREC™.
We've been teaching for over 26 years, guiding students in their effort to pass the sales person and broker license examination.
Our lead instructor is a seasoned real estate agent, practicing broker, and TRETA Certified Real Estate Instructor, with nearly 40 years in the business.
Top-Notch Real Estate Exam Prep Course
---
Our students say our Real Estate Exam Prep Course (EPC) is easily the #1 choice to pass the exam.
Contact our scheduling staff today or click here to reserve your space.
Please note – prepayment is required no later than the Monday before the class.
For more details, feel free to get in touch with our friendly staff.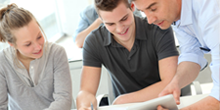 Count on over 26 years of experience for superior quality exam training.